"The master's tools will never dismantle the master's house," – Audre Lorde (1984)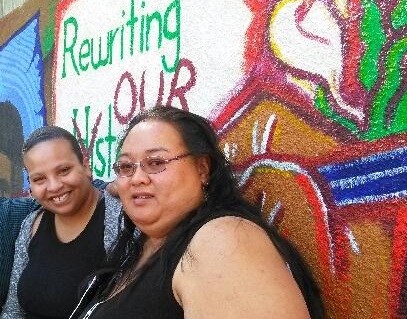 When Jill Mangaliman, Executive Director of Got Green, asked if I would help them create a job share for the Food Access Team Community Organizer position, I jumped at the chance. Over the years I have watched good organizers burnout, and grassroots talent go untapped because people could not endure having their love for community pitted against their love for their families. I became convinced that we had to find better ways of structuring the "movement workplace" to recognize the multiple roles that women, in particular, play in our families and communities.
Job share is defined as "an arrangement in which two or more employees share one full time job," (http://www.dictionary.com) A job share is distinguished from two, independent part-time positions in that the two workers in a job share must function as partners; communicating with and supporting each other to accomplish the day-to-day responsibilities, and end goals of the position. 
How Got Green arrived at the job share model takes a bit of explaining. Last fall the Board of Directors voted to prioritize resources for the Food Access Team. Two factors drove their decision: 1) The Team had a track record of developing low income women, women of color, and single parents into fierce community leaders, and Got Green wanted more of that.  2) Word on the streets said Seattle might follow in the footsteps of Berkeley, California and pursue a sugary drinks tax and Got Green wanted the communities hardest hit by the tax to benefit by reaping more healthy food dollars.
Yet when Mangaliman moved to make the Food Access Team Organizer position full-time, it created a conflict for founding organizer Tammy Nguyen. "As a single parent and a woman with chronic health concerns, I was actually planning to ask to reduce my hours, not increase them." The job share idea emerged as a way to retain the expertise, relationships and leadership of Nguyen, while at the same time ramping up the Food Access Team's work.
"This is the first time I've heard of or seen a job share," said Food Access Team founding member Violet Lavatai. But after discussing the concept at the Team's April retreat, Lavatai was sold, "It is good for our community because you can have two different people with ideas that can feed off of each other."
Tanika Thompson was an obvious pick to fill the second side of the job share. A three year veteran of the organization, Thompson has worn several hats. She coordinated the field game for the Targeted Local Hire Campaign's ramp-up in 2013, chaired the 2014 Green-a-Thon event, and has served on Got Green's Board for the past three years. 
"I am looking forward to becoming a strong part of the work again," Thompson told me. She sees the job share model as ideal because, "I can learn more from Tammy about the food access issues and figure out how to build support for our communities' unmet needs."
Whether it's working at the cutting edge of the Climate Equity Movement, or redefining a green job to be one that benefits the community in which its sited, Got Green is proving itself to be a forward thinking organization. Job share is a creative tool that will not only help dismantle the master's house, it will support us to construct something new in its place. I think Audre Lorde would have been proud.
– by Kristyn Joy, Former Got Green Operations Director, non-profit consultant and Food Access Team lifetime fan
Join Tanika in her first action as Co-Organizer of the Food Access Team with Tammy, by signing the petition to close the Food Security Gap with the Sugary Drink Tax!
Learn more about Tanika and the Got Green Staff