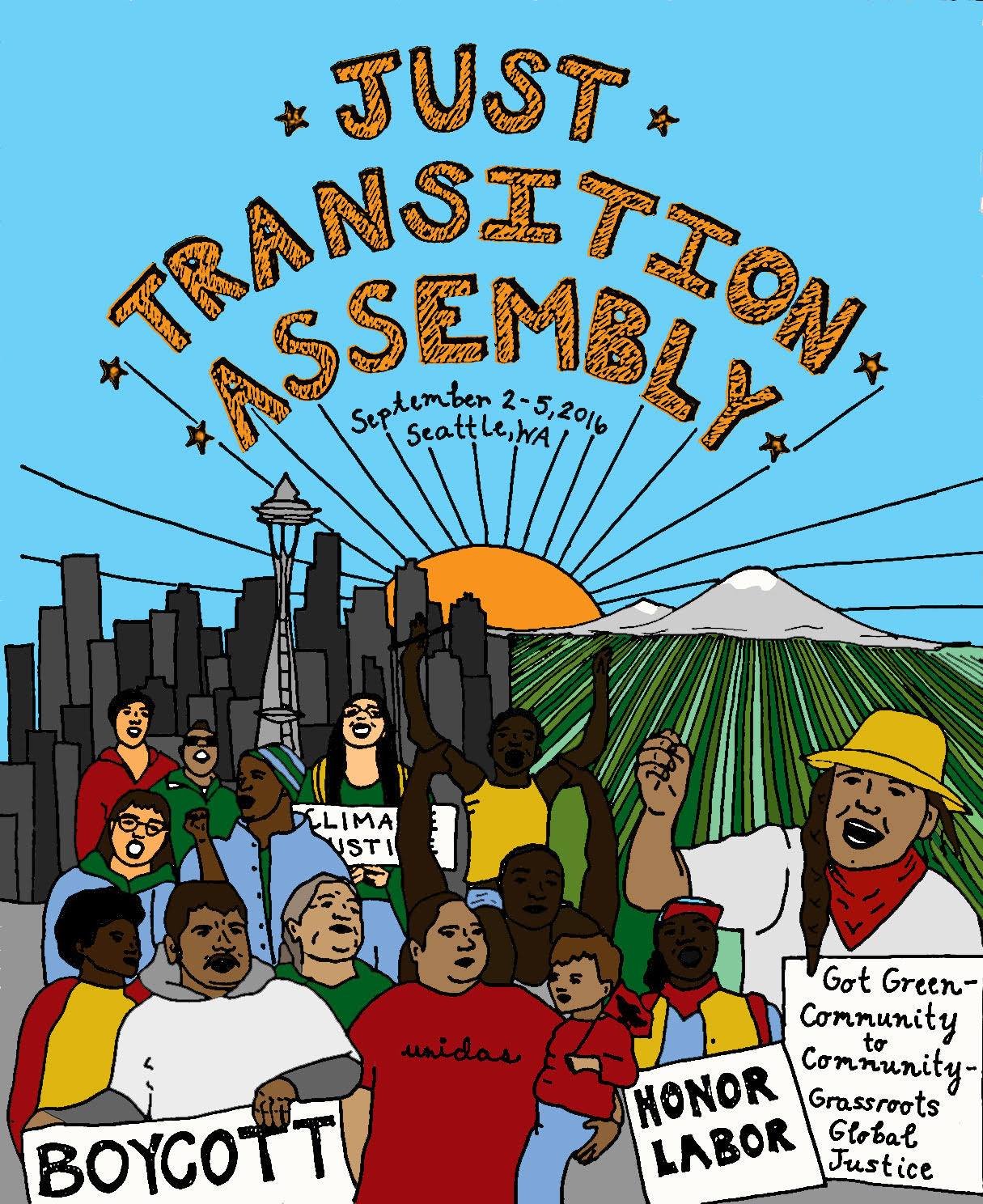 JUST TRANSITION ASSEMBLY
Seattle Washington
Day 1
Friday, September 2nd – Southside Commons
3518 S Edmunds Street, Seattle WA 98118
Registration 600pm – 630pm
Welcome and Potluck Dinner 630pm – 900pm
Idle No More: Decolonize Our Activism  
This workshop incorporates traditional Native American teachings that are even more relevant and needed today. We will offer some suggestions on how to be a good ally and form partnerships with the traditional stewards of this land. This workshop briefly covers the longer workshops of History of Colonization, Healing Historical Trauma, Spiritual Activism, and The 7th Fire. Offering self-reflection, group participation, role play, one-on-one and small group discussions, group meditation, and finally positive actions each individual can take. By acknowledging our collective past and focusing on the present healing often leads participants to become aware of historical barriers that can be effectively removed in a safe and comfortable environment. Facilitated by Idle No More Washington director Sweetwater Nannauck.
Youth Space 630pm – 700pm
A "Meet and Greet" for youth participants (18 and under) prior to the Idle No More workshop.
---
Day 2
Saturday, September 3rd – Beacon Hill United Methodist Church
7301 Beacon Ave S, Seattle, WA 98108
Registration and breakfast 900am – 930am
Welcome and Blessing – Duwamish Tribe Cecile Hansen
Overview – Got Green, Jill Mangaliman 930am – 1000am
Just Transition 101 – Got Green's, Rashad Barber & Laurie Torres 1000am – 1030am
Panel 1 – Defending the Dignity of Our Bodies, Our Communities and Mother Earth
1030am – 1200pm
Jaron Browne, Grassroots Global Justice

Rhondalei Gabuat, Gabriella Seattle

Zarna Joshi, Women of Color Speak Out

D Pei Wu, Jobs with Justice PDX

Will Copeland, East Michigan Environmental Action Council
Lunch – Norma Ramirez Catering 1200pm – 100pm
Education Tracks 100pm – 400pm
Worker Rights and the Green Economy

Through panels, interactive visioning activities and group discussion, attendees will come away from this track understanding what an equitable definition of green jobs looks like, the history of worker's rights and how people are redefining advocacy for worker's rights. Using the experience in the room, we can begin to create solutions for worker's rights and green jobs within the context of a just transition. Facilitators from Casa Latina, Fair Work Center, and Got Green will share and guide this conversation.
Human Rights, Dignity, and Power

In this time of militarized policing, mass incarceration and deportations and targeted surveillance, we must examine our historical relationship to the state that has led to our current conditions. How do we continue to uphold our people's rights and dignity? How do we respond to the growing and increasingly complex needs of our communities in regards to safety and livelihood? What will it take to win? Facilitators from Api Chaya, FIGHT, and No New Youth Jail will share and guide conversation.
Climate Justice and Energy Democracy

In this session we will provide and collaborative overview of climate justice.  Will start with environmental racism and energy/ economic drivers, then introduce the resilient communities' framework. We will then break-out into solution groups for the majority of the session. The breakouts will focus on different levels of action from policy to community-self sufficiency to personal transformation.  We will reconvene from breakouts to summarize solutions. Facilitators from Puget Sound Sage, Latino Community Fund, Front and Centered, Asian Pacific Islander Coalition, Women of Color Speak Out and 350 Seattle will share and guide conversation.

Youth Space 300pm – 400pm

Youth (18 and under) will gather to share about the struggles they currently are involved in, discuss what they envision a Just Transition to be, and determine what their role as young people is in changing the system.  
People's Solidarity Night – Hillman City Collaboratory
5623 Rainier Ave S, Seattle, WA 98118
Concert, merch, and food vendors 700pm – 1000pm
Join the Community Party for the 2nd PNW Just Transition Assembly! Local Performances by: Rogue Pinay, Kounter Balance, Do Normaal, Nikkita Oliver, Yirim Seck, and Santonio Bandan of Alpha P.  Organized by LULUNATION, Rebels and Scholars, and Revolutionary Staging. Free Admission. All ages!
---
Day 3
Sunday, September 4th – Jefferson Community Center
3801 Beacon Ave S, Seattle, WA 98108
Registration and breakfast 900am – 930am
Welcome and overview 930am – 1000am
Report back of PMA, Tribunals, and convenings – Victor Rodriguez 1000am – 1030am
Panel 2 – What does a Just Transition look like in the Pacific Northwest and around the country 1030am – 1200pm
Dean Jackson, Hilltop Urban Garden

Priya Rai, API Chaya

Brandon King, Cooperation Jackson

Jihan Gearon, Black Mesa
Lunch – Altaye Ethiopian Restaurant 1200pm – 100pm
Breakout / Strategy sessions 100pm – 300pm
Youth Space – Seattle Environmental Justice Tour / break out session 100pm – 300pm
Closing 300pm – 400pm