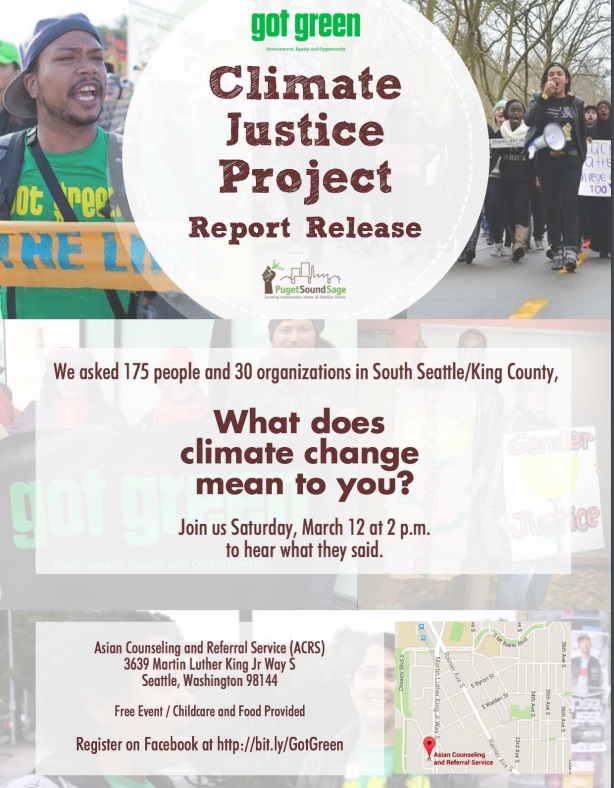 Climate Justice Report Release
Sunday, March 12th at 2-5pm
  Asian Counseling and Referral Serivices
3639 Martin Luther King Jr Way S, Seattle,WA 98144
RSVP: http://bit.ly/GotGreen
"To do climate work, we must be humble and take the lead from those who are most directly impacted by climate change, communites of color and working class communities, as they know best how to improve the conditions of their environment. The old way of "top down decision making" that is narrowly single-issue and leans toward market-centered solutions will not bring the change we need. The real solution will come from the grassroots and people in this survey"- Jill Mangaliman, Executive Director of Got Green.
We know that climate change is the worst threat to racial justice. People of color already live in the most polluted and under resourced neighboor hoods, and face higher rates of health and economic disparities. We are already feeling the impacts of global warning, from fllooding to heat waves, to dispalcement. In the coming years we will see a rising cost of energy, food and housing and other basic needs. As cities prepare climate impacts, we will work to ensure that the most marginalized  communites are not left out but are leading                                                                                                                                                             
Got Green and Puget Soung Sage started the Climate Justice Project to combat the idea that people of color and low income communites don't care about climate change. We interviewed 175 people and 30 organiztions in South Seattle and South King County – come learn what the community had to say.
Preview video by Ijo Media Arts