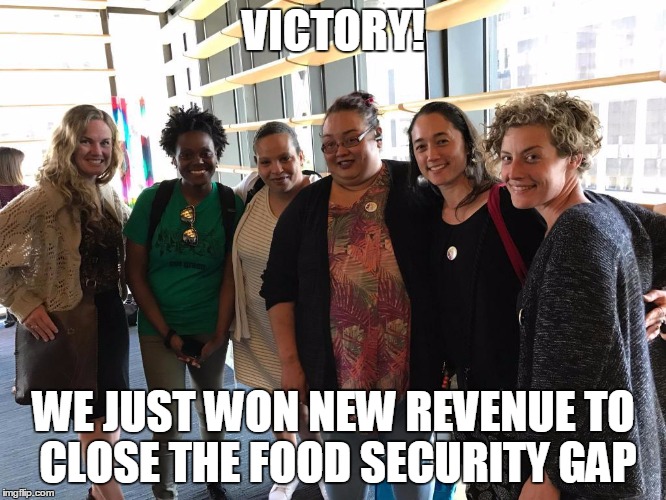 For Immediate Release
June 5, 2017
Contact:       Tammy Nguyen, 206-832-5792, tammy@gotgreen.org
                      Tanika Thomspon, 206-94-7897, tanika@gotgreen.org
Seattle Becomes First City to Devote Sugary Drink Tax Revenue toward Closing the Food Gap
Got Green celebrates community-led effort to reinvest tax money in food security
[June 5, 2017] Seattle City Council has just passed a tax on sugar-sweetened beverages. By passing this tax, Seattle is following the lead of seven other U.S. cities, but taking the lead in how the revenue will be spent: Seattle is the first city to invest sugary drink tax revenue into healthy food access for working families.
Community organizing in South Seattle has helped turn what could otherwise be a regressive tax into one that will benefit low-income communities and communities of color. "We have worked hard to ensure that funds raised by the tax will put healthy food on the table for hungry families across our city," says Tanika Thompson, Food Access Co-Organizer for Got Green. "The sad reality is that there are no other existing funding streams to close the food security gap. Now, with the oversight of an Advisory Board with 6 community representatives, a majority of the tax revenue will go toward closing the food security gap for working families."
In Seattle, some 122,000 households fall into the "food security gap": they earn a living wage but are unable to afford healthy food due to the rising cost of rent and other expenses. These families' incomes are at 200 percent of the poverty level, so they do not qualify for EBT/SNAP benefits. By collecting an additional .0175 cents for every ounce of any sugar-sweetened beverage sold in Seattle (excluding dairy, medical drinks and diet soda) the Sugary Beverage Tax could raise about $15 million per year. The majority of these funds will be used to help families access affordable, healthy food. In this way, the communities hit hardest by the tax will benefit the most.
Got Green's Food Access Team is made up of community members who fall into the food security gap. We advocate for access to healthy affordable food for working families. In partnership with 30 community organizations, the Food Access Team urged the City Council to dedicate at least one third of the Sugary Beverage Tax revenue to closing the food security gap. On May 26th, we delivered over 500 petition signatures to the City Council, in the form of a scroll extending across the length of the room. Community members testified about the importance of healthy foods in preventing obesity and diabetes.
It worked: we secured a promise that at least 50 percent of the Sugary Beverage Tax revenue will be directed to food security. The funds will be used to grow the Fresh Bucks program — a dollar-to-dollar match program for EBT/SNAP users to purchase fruits and vegetables at Farmers Markets in Seattle and surrounding areas — and for programs aimed at closing the food security gap.
"To maximize the racial and class equity of this law, diet drinks must also be included in the tax in the future. In the meantime this is a significant a victory by and for working families throughout Seattle because the new law puts closing the food security gap as the number one investment priority for the tax revenue," says Tammy Nguyen, Got Green Food Access Co-Organizer. "I am a working mom with three kids who need healthy food to lead healthy lives. I worked hard to help shape the reinvestments on this tax for the benefit of my family and the tens of thousands of others who will be able to pay for healthier meals as a result of this new law."
Got Green is community organization based in South Seattle that organizes people of color and low-income people to achieve Green Justice for all. Got Green's food access team is working to close the food security gap for low-income and working families in Seattle and beyond. Got Green helped win the Fresh Bucks program in Seattle, which is now being expanded to 18 counties across the state.
###