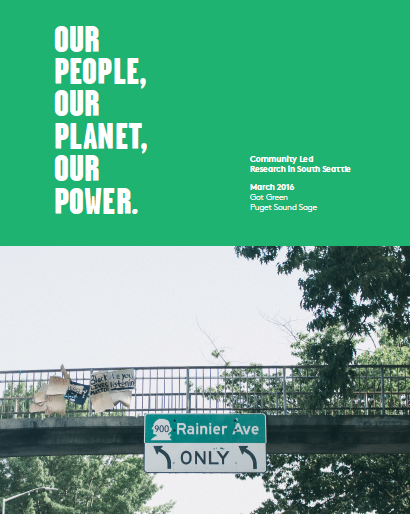 Executive Summary of Our People, Our Planet, Our Power: Community-Led Research in South Seattle
Got Green and Puget Sound Sage; March 2016.
Over nine months, Puget Sound Sage and Got Green set out to learn how our communities were experiencing climate change. Led by the Climate Justice committee, we interviewed 175 people living in South Seattle/King County and 30 organizations with the goal of determining our collective priorities and lift up the message that poor people and people of color are often hit first and worst by the impacts of climate change. Our People, Our Planet, Our Power – Community Led Research in South Seattle has shaped our conversations with community, the public sector, and organizational partners as well as the development of the policy recommendations put forth in this report.
 Affordable Housing Crisis Tops List of Community Concerns: Over one third of survey respondents identified lack of affordable housing as the most important issue impacting their neighborhood. Housing was also elevated as an issue of concern throughout the organizational interviews. Any local efforts to build climate resilience will be undermined if low-income people and people of color continue to be displaced to under-resourced suburban cities.
Strong Support for Strategies to Reduce Emissions:  We asked survey respondents to tell us if they supported or opposed 14 different strategies, ranging from creating green jobs to improving sidewalks, to reducing carbon pollution. All but one option received 90% support or more, indicating a strong willingness by respondents to make public investments to stop climate change.
Food Insecurity Top Climate Impact: When asked specifically, "What potential impacts of climate change most concern you?" a majority of our survey respondents said that rising food costs was the climate impacts that concern them the most. Access to healthy, affordable food is a pre-existing vulnerability in our communities.
Our People, Our Planet, Our Power is a compilation of our findings, stories from community leaders, recommendations that came from the community roundtable discussions and Climate Justice steering committee, and a glossary of Climate Justice terms. This Climate Justice Project has set the foundation for our organizations to develop grassroots campaigns which grows an intersectional climate justice movement which keeps our communities rooted in place and ushers in an economy for people and the planet.
READ THE FULL REPORT: OUR PEOPLE, OUR PLANET, OUR POWER (Available March 12, 2016) *
* note: error on page 46. "Jackson, Mississippi" — not Missouri. Apologies to our friends at Cooperation Jackson. We love you and will make the correction in the 2nd run.