Application deadline extended — apply before May 20th (Friday)…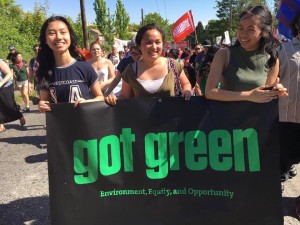 JOB ANNOUNCEMENT
OPERATIONS MANAGER
The Operation Manager is a part time position responsible for managing office space, database and accounts, as well as volunteer coordination.  
Position/Classification: 32 hours/week, Permanent
Reports to: Development Director
Salary:   $34-36,000/year with generous vacation time, full medical and dental benefits
Start date: June 2016 
Job Duties/Major Responsibilities
OFFICE SPACE MANAGEMENT
Manages office communication systems; including checking voicemail and providing messages to staff members and checking mail and delivering it to the Development Director.
Manages staff calendar – events, major meetings, etc.
Manages office supply needs by creating a way to track office supply needs and obtaining necessary office supplies
Organizes regular cleaning and organization of the office spaces
Maintains all electronic systems (computers, phones, printers, etc.)
Coordination of staff meetings and staff retreats
Assist in organizational strategic planning with wider staff. 
DATABASE MANAGEMENT
Stay up to date with Powerbase trainings (Got Green's databse)
Create a plan to clean-up and maintain Got Green's database.
Provide support to staff in uploading contacts, pulling reports, and sending e-blasts.
ACCOUNTS MANAGEMENT
Works alongside bookkeeper in developing financial reports– via Quickbooks
Coordination of changes to medical and dental benefits – with support of Development Director
Responsible for 501c3 organizational deadlines.
EVENT MANAGEMENT
Assist in the

preparation

of materials for Got Green events.
Logistics for major events – childcare coordination, food coordination, booking event spaces, etc.
VOLUNTEER MANAGEMENT*
Tracks volunteer needs that the staff has and communication to prospect volunteers
Staffs Bi-monthly volunteer Nights – possibly with one other staff
Acts as a liaison in Got Green's relationship with groups that provide volunteers
*Volunteer Management is the lowest priority for this new position. This area of work will only be incorporated in the Operations Manager work plan if all other areas of work are fulfilled.
Qualifications:
Expectation to work in the office during work day hours (Monday-Friday, 9am-5pm)
Commitment to be in position for a minimum of one year, ideally two years.
Excellent interpersonal and oral/writing/listening communication skills
Strong working knowledge of desktop office products
Sharp attention to detail and time management
Ability to work some evenings and weekends,
Familiarity with PowerBase or a similar CRM (not required)
Familiarity with financial documents and knowledge of Qucikbooks is a plus (not required)
Possess valid WA State driver's license and is/can be insured; vehicle owner (not required)
Education & Experience:
The organization seeks candidates with at least a minimum of two years of experience working in an office setting performing office manager or operations duties.  However, transferrable experience and training that would likely provide the required qualifications and skills set will be considered.
Physical Demands & Working Conditions:  Work is performed in an office environment. While performing the duties of this job, the employee is frequently required to read, speak, stand, walk, sit and use a computer keyboard and monitor. Some heavy lifting and physical labor is required. This position requires occasional travel to meetings and conferences. Some evening meetings and/or weekend events will be required.  Reasonable accommodations may be made to enable individuals with disabilities to perform the essential functions of this job.
This job description generally describes the principle functions of the position. It is not intended as a complete list of specific duties and responsibilities. Individuals may perform other duties as assigned.
To apply, email cover letter, resume, and references to sean@gotgreen.org, subject line: Operations Manager by Friday, May 20th.