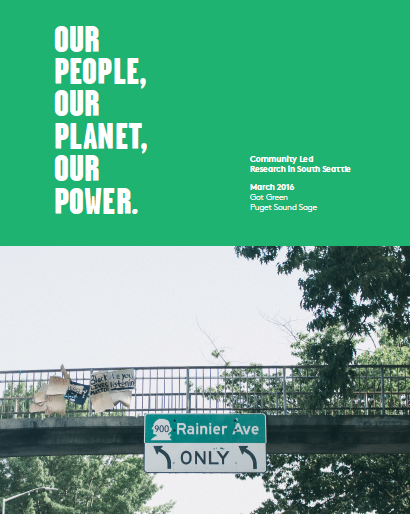 Press Contact: Afrin Sopariwala
408.598.7656 | afrin@fusewashington.org
What did 175 residents of South Seattle have to say about climate change?
SEATTLE, WA –  The disproportionate impact of climate change to low income communities of color has been widely documented. These communities have also been excluded from conversations on policy and solutions. Two local community based organizations have been working to shift the focus of the environmental movement from capitalist solutions to tackling the root causes of climate change, and toward community focused solutions.
In May to July 2015, 70 volunteers surveyed over 175 people and 30 organizations in South Seattle to understand what climate change meant to them and what solutions they envisioned. The survey came out of of the Climate Justice Project, a partnership between Got Green and Puget Sound Sage to create a grassroots committee made up of young leaders of color organizing to challenge systems of oppression. The findings of the survey and next steps of the project will be released at a celebration event in a report called, Our People, Our Power, Our Planet: Community-Led Research in South Seattle.
Who: Got Green and Puget Sound Sage
When: Saturday March 12th, 2pm to 5pm 
Where: Asian Counseling and Referral Service (ACRS), 3639 Martin Luther King Jr Way S, Seattle, WA 98144 
What does the disproportionate impact of climate change mean for communities in Seattle? And how do communities see themselves within this larger conversation about climate change? The findings in the report illuminate the communities' perspectives and put that knowledge in the context of the climate threats facing the Pacific Northwest. 
The intention for this report is to recenter people of color and low income communities in the local movement for climate resilience. The report describes a unique approach to uncovering knowledge and insight from the communities through community based participatory research (CBPR). Hundreds of community members and leaders were engaged to deeply understand their perceptions of climate change, priorities for resilience and how to grow a climate justice movement. In the second section, the report describes movement building and policy solutions identified by participants that link the immediate concerns of communities to a broader climate resilience agenda in Seattle, the PNW region and the globe. 
"To do climate work, we must be humble and take the lead from those who are most directly impacted by climate change, communities of color and working class communities, as they know best how to improve the conditions of their environment. The old way of "top down decision making" that is narrowly single issue and leans toward market-centered solutions will not bring the change we need. The real solutions will come from the grassroots and people in this survey," said Jill Mangaliman, Executive Director of Got Green. 
This is a free event with child care and food provided. There will be a Photo Booth provided by the City of Seattle's Environment and Equity Initiative. Attendees will receive a copy of the Climate Justice Report.
READ THE FULL REPORT: OUR PEOPLE, OUR PLANET, OUR POWER (Available March 12, 2016) 
###
Got Green organizes for environmental, racial, and economic justice. We are a South Seattle based grassroots organization led by people of color and low income people. We are working to ensure the benefits of the green economy – green jobs, access to healthy food, green healthy homes, and public transit – reach low income communities and communities of color. www.gotgreenseattle.org 
Puget Sound Sage improves the lives of all families by building power for shared prosperity in our regional economy. We combine research, innovative policy and organizing to advance racial equity, stronger democracy, good jobs, affordable housing, accessible transit and a healthy environment. www.pugetsoundsage.org