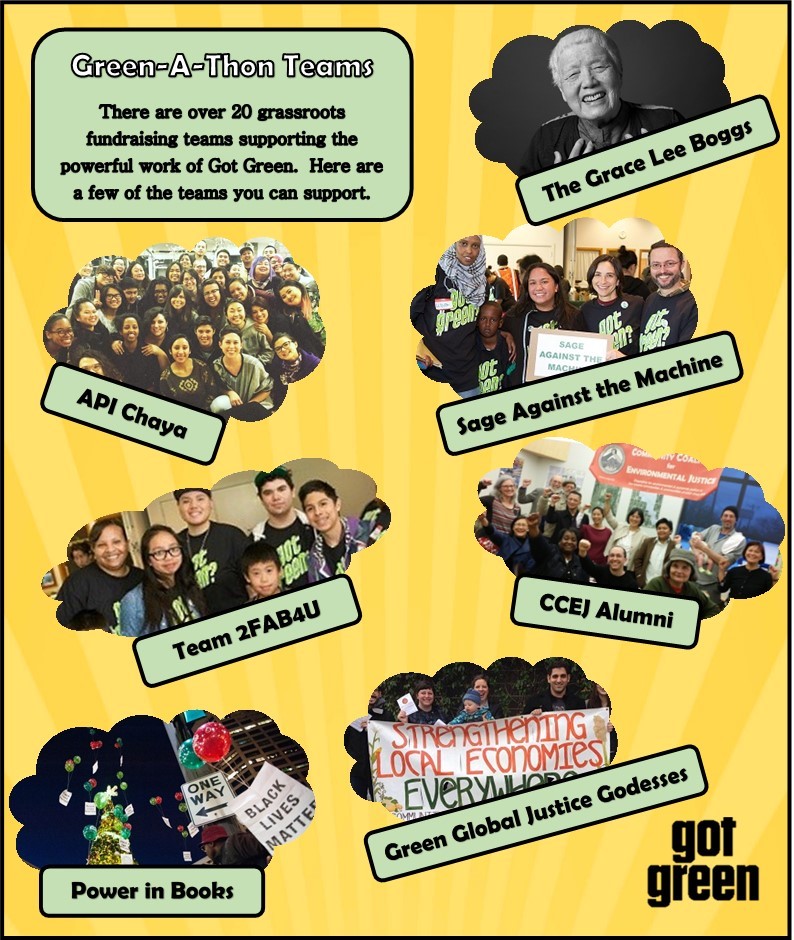 Donate today to your favorite Green-A-Thon team. After donating, help us spread the word!  These aweome volunteer-based teams are helping Got Green raise $40,000 for our  organizing in communities of color and low income communities for local jobs, healthy food, green internships and climate justice! Click on the TEAM NAME to donate.
ps. In addition to making a personal donation, you have the opportunity to form a team of your own and have your business/orgaization/union sponsor the event.
================ 
Support the Green-A-Thon Teams – Donate Today!
Marion Romero
Mo! Avery
Sean O'Neill
Jessica Ramirez
Mano da Silva
Tuyet-Nhi Vo
Willea Cooks
Tanika Thompson
Julie Pham
Andra Kranzler
Alice Park
Maria Batayola
Yalonda Sinde
Tiffany Grobelski
Jonathan Betz-Zall
Bang Nguyen
Lylianna Allala 
Shin Shin Hsia
Michael Wong
Alissa Haslam
Sarah Nason
Esther Handy
Julio Sanchez
Nicco FortesMariko Fujita
Heather Day
Ross Kirshenbaum
Chris Iberle
Christina Leal
Krista Hanson
Maya Weiner Berkowitz
Jamine Marwaha
Mike O'Brien
Susie Levy
Tripat Singh
Maggie Wykowski
Jay Doran
Shelby Handler
Mollie Wolf
Zoe Handler
Reed Ingalls
Paulie Brown
Ahmed Gaya
Alice Lockhart
Diane Cortese
Dante Garcia
Afrin Sopariwala
Stina Janssen
Britta Janssen
Jill Mangaliman
Tiffany Chan
Michelle Jacquish
JM Wong
Cabug Boog
Lisa Chen
Judy de Barros
Theresa Fujiwara 
Kristyn Joy
Bao-Tram Do
Eunice Letzing
Dough Whalen
Fleur Larson