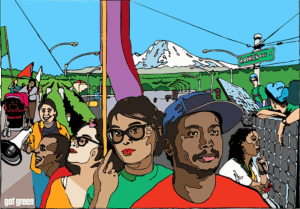 ORGANIZING DIRECTOR
Position/Classification: Full time, Exempt, Director
Reports to: Executive Director
Direct Reports: Food Access Organizers, Climate Justice Organizer, Young Leader Organizer
Application Due: May 30, 2017
Location: Seattle, WA
Start Date: July 1, 2017. Position open until closed.
Salary: $50 – 52K for 40 hours/week, depending on experience, plus benefits
Please send resume and cover letter to Jill Mangaliman (jill@gotgreen.org) by May 30th.
====
Organizational Background
Got Green is an innovative grassroots organization that works to create a more environmentally, economically and racially just society. Based in South Seattle and led by people of color, we are cultivating our constituency of low-income people and people of color to be central voices in the Green Movement in Seattle, the Pacific Northwest, and beyond. We educate, advocate, organize, and participate in coalitions to create livable wage green jobs, access to healthy food, and rooted and resilient neighborhoods for low-income communities and communities of color.
At Got Green we live our values of leadership, self-determination, community and transformation. As one of the only multi-issue organizing groups led by people of color and low income people in Seattle, we are modeling the future of the Green Movement – a Green Movement that connects everyday concerns about food, housing and jobs to the larger movement for climate justice; a Green Movement that centers the voices and decision-making of those most impacted by climate issues; a Green Movement that fights not just for equity but also for justice and a world where our economy and society support regeneration, self-determination and liberation.
Position Details
The Organizing Director is a newly created full-time position that reflects Got Green's commitment to continue growing its reach and influence in Seattle and beyond. Got Green is seeking an inspired and dynamic movement-builder who has been a grassroots organizer and lead campaigner, and who is looking to take that experience to the next level.
This Organizing Director will become a public voice for Got Green and will help move Got Green's larger narrative for Green Justice, including developing and sharing stories that connect healthy food, living wage green jobs, and rooted communities as key components of regional and national fights for Climate Justice and a Just Transition to a New Economy. Working with the Executive Director, this individual will represent the organization in coalition and alliance spaces as well as with the media.

The Organizing Director will use their experience to supervise Got Green's three organizers to ensure integration among all campaign work and their alignment with Got Green's strategic plan. They will also develop Got Green's organizers as communicators who can effectively advance their campaigns with allies, potential members and the media.
Job Duties/Major Responsibilities:
MOVEMENT-BUILDING
Along with Executive Director, represent Got Green in Regional, Statewide and National Coalitions and Alliances

Act as organizational spokesperson to move organizational narrative and messaging
PROGRAM/CAMPAIGN IMPACT
Foster strategic planning and integration of all GG's programs/campaigns

Develop narratives, messages and communications plans that connect and move all three programs/campaigns

Support campaign and media strategy development for each campaign: Food Access, Climate Justice and Young Leaders

Build coalition and strategic partners and facilitate their support of campaigns  

Facilitate organizational support of each work committee at key campaign moments

Design leadership development plan and implement leadership trainings for staff, board and committee leaders

Develop and lead Grassroots Media Committee
OPERATIONS/ADMINISTRATION
Exercise leadership as a GG senior management team member to:
Participate in developing the annual GG overall budget and workplan

Supervise Got Green's three organizers

Facilitate the development of individual work plans; monitor implementation to meet deadlines

Assist with training /team building opportunities for entire staff as needed

Ensure use of all-staff meetings to promote internal communication and feedback loops about agency performance

Maintain leadership spheres/tracking and press list in Powerbase

Coordinate overall organizational communications calendar for e-blasts and social media

Develop and maintain media interview tracking system

Other duties as assigned
Qualifications:
Demonstrated identity and action as a grassroots organizer and movement-builder

Passion for and track record of working on racial/social/ environmental justice issues

Skills to serve as a Got Green spokesperson /ambassador to media and with coalitions

Minimum of 5 years of experience in community organizing including communications for grassroots campaigns

Minimum of 5 years of experience conducting leadership development and base building

Minimum of 3 years experience working with racially/culturally diverse and low income populations

Minimum of 3 years of experience with supervising and mentoring community organizers

Excellent interpersonal and oral/writing/listening communication skills ; Ability to present to a wide range of audiences; bilingual a plus

Strong working knowledge of desktop office products

Ability to take initiative, manage time well and complete tasks and projects by targeted dates

Ability to work some evenings and weekends; possess valid WA State driver's license and is/can be insured
Education & Experience: In addition to the above qualifications, Got Green seeks candidates with knowledge of nonprofit management, human resources, finance, communication and strategic planning. Familiarity with the environmental and climate justice sectors is strongly preferred, but not required.
Physical Demands & Working Conditions:  Work is performed in an office environment. While performing the duties of this job, the employee is frequently required to read, speak, stand, walk, sit and use a computer keyboard and monitor. Some heavy lifting and physical labor is required during special events. This position requires occasional travel to meetings and conferences. Some evening meetings and/or weekend events will be required.  Reasonable accommodations may be made to enable individuals with disabilities to perform the essential functions of this job.
This job description generally describes the principle functions of the position. It is not intended as a complete list of specific duties and responsibilities. Individuals may perform other duties as assigned.

Application Due: May 30, 2017
Location: Seattle, WA
Start Date: July 1, 2017. Position open until closed.
Salary: $50 – 52K for 40 hours/week, depending on experience, plus benefits
Please send resume and cover letter to Jill Mangaliman (jill@gotgreen.org) by May 30th.